Attracting Abundance into Your Life and Business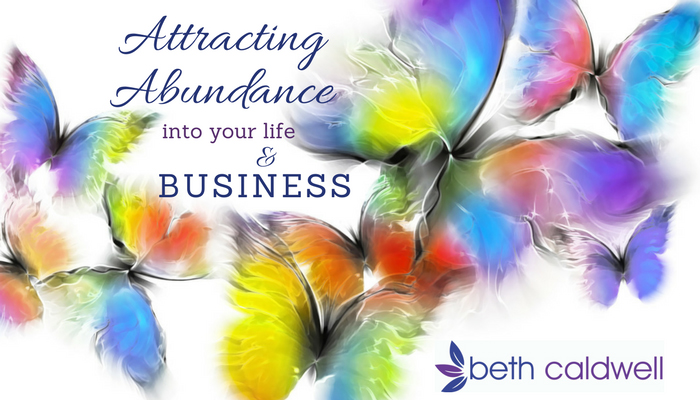 Do you sometimes look at women who look like they have it all and wish you could do more and be more? That is the opposite of joy and abundance. In this very personal presentation Beth shares how she worked and judged herself into a serious illness…and the significant shifts she had to make which led her from a life of overwhelm and frustration to joy and abundance. Let her walk you through the steps to shift your own life from Frantic to Focused.
Meet the presenter:
Beth Caldwell has been teaching women how to grow their business and get paid what they're worth for more than a decade. Her successful image and bright smile never revealed the chaotic and frantic lifestyle that went on behind the scenes. Her choices led to a serious illness which required drastic changes. Surprisingly, these changes resulted in an immediate growth in her business, improved health and a focused, intentional lifestyle. In this fun and refreshing quick presentation, Beth shares some of her favorite habits that she implemented in order to shift her out-of-control life into one of joy and abundance.
Course Curriculum
Attracting Abundance

00:00:00
Instructor
Beth Caldwell is an author, speaker, business success strategist and a host for Pittsburgh BizTV Shows. She is a columnist for the Pittsburgh Business Times newspaper and Smart Business magazine, but is best known as the founder of Pittsburgh Professional Women and Leadership Academy for Women.
Recognized by Pittsburgh Magazine as an influential and innovative leader, Beth was named  a "40 Under 40″ winner the day before her 40th birthday. In October she was recognized with the Pennsylvania Woman of Courage Award.
Beth teaches workshops on leadership, business, and inspiration to audiences worldwide for the Steve Harvey Success Institute. Her passion is to empower women to achieve success in life and business.
Access her success books here: https://www.amazon.com/Beth-Caldwell/e/B00BZPS1C8